Royal Pavilion in Brighton
The residence of the Prince of Wales (later George IV) in the late 18th and early 19th centuries. When he first visited Brighton in 1783, the town was already a seaside resort, though the Prince's patronage further stimulated its growth. In 1786 he rented a "superior farmhouse" there in order to pursue his affair with Mrs Fitzherbert and soon began to extend and improve it as the Marine Pavilion.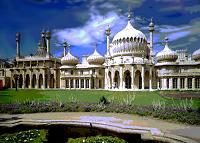 The additions were designed by Henry Holland, a leading Neo-Classical architect of the period. Between 1802 and 1804 the interiors of the house were redecorated in a fashionable Chinese manner and a circular stable block (now the Dome concert hall) was added (1803-1808) in the Indian style. After becoming Prince Regent in 1811 (he succeeded to the throne in 1820), the Prince employed John Nash to remodel the building totally. Nash (who laid out Regent's Park, Regent Street, and Carlton House Terrace, in London) worked largely within the framework of Holland's earlier house but completely transformed the interior in a wildly eclectic, predominantly Oriental style, ideally suited to the lavish entertaining which the Prince enjoyed. The work was finished by 1822. The most striking interiors at the Pavilion include the Music Room (where Rossini entertained George IV at Christmas 1823) and the Banqueting Room. The Great Kitchen features iron columns decorated as palm trees. Only the Saloon retains its pre-Nash form. The King's Apartments are more restrained.
George IV (who died in 1830) made his last visit in 1827. Though occasionally used by William IV and Queen Victoria, the Pavilion was finally abandoned in the 1840s and stripped of its contents. It was acquired by the citizens of Brighton in 1850 and many of the furnishings have since been returned to the restored building, which remains one of the most extraordinary creations of any English monarch.